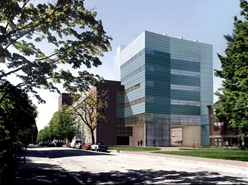 Size: 5-story aboveground plus 3-level basement, 135,000 sq. ft. research lab facility
GC / Design-Build: Turner Construction
Electrical Crew: 50 at peak
Scope: Shell and core electrical construction of new research lab facility, which houses a state-of-the art clean room and features dust-free lab environments.  Project included primary and emergency power, lighting, and fire alarm installations.  Electrical work associated with an entire mechanical floor, which provides power and maintains optimal atmosphere for labs.
Highlights:
State-of-the-art LISE facility features labs for nanoscale and mesoscale science
Electrical installations for 10,000 sq. ft. clean room
Entailed dozens of connections for special purpose mechanical equipment
Timeline: 1 year