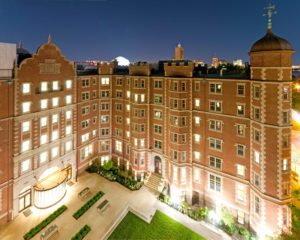 Size: 7-story, 160,000 sq. ft. student residence
GC / Design-Build: Shawmut Design & Construction
Electrical Crew: 35 at peak
Scope:
Comprehensive, multi-phase electrical renovation of historic MIT student residence building, circa 1901. Electrical reconstruction of building's state-of-the-art food servery and conference room on first floor; undergraduate student residences on floors 2 through 7. Ground-up restoration of all building electrical systems, including new primary and emergency power, energy efficient lighting and lighting control systems, and fire alarm.  Conduit and wiring for security system infrastructure.  Power and control wiring for specialized refrigeration systems in 16,000 sq. ft. kitchen facility.
Highlights:
Building restoration received LEED Gold Certification
First floor restored to building's original architectural grandeur including its 35,000 sq. ft. conference center
Extensive revision to electrical layouts and electrical field changes (179 in total) for renovation of electrical, lighting and power systems
Power installations included emergency generator and back-up generator
104 electrical panels installed
Specialized Emon Demon electrical power monitoring system comprised of more than 100 monitoring system subpanels installed
State-of-the-art Lutron lighting control system and more than 4,000 light fixtures installed
Expedited delivery of electrical equipment to meet project scheduling
Advanced Simplex fire alarm system integrates smoke evacuation controls and alarms for 362 dormitory residences
Timeline: less than 1 year (after initial work on project was suspended due to economic conditions)