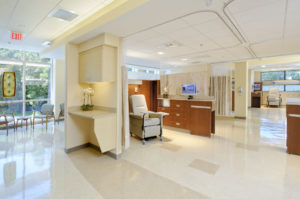 Size: 40,000 sq. ft.
GC: A.J. Martini
Owner: Boston Properties
Electrical Crew:  9 electricians and 3 telecom technicians
Scope: Reconstruction of hospital's entire 2nd floor, preceded by demolition of existing floor.  Demolition and renovation of an adjacent 2-story facility.  Comprehensive electrical construction included facility's primary and emergency power systems, new fire alarm system, nurse call system, tel/data system, and low voltage lighting control system.  Additionally, provided electrical installations related to historic restoration and preservation of 4,000 sq. ft. in attached 3-story building, which included installing a 1200Amp, 480/277 Volt power service to the facility and 400Amp, 277Volt service to facility's existing tenant.
Spectrum IT provided tel/data installations under separate contract, including TV/video installations for oncology bay.
Highlights:
12 month phased construction in fully operational hospital
Close coordination between project team members and off-hour scheduling
LEED Gold Certification
BIM platform – AutoCAD Revit – utilized for project's electrical and mechanical installations
Reconstructed 2nd floor of facility dedicated to medical oncology and infusion services
Family areas provide wireless communications and televisions with DVD capabilities
Historic restoration of administrative office and doctors' office building
Project Timeline: 1 year
Under separate contract, J&M Brown provided electrical construction and fit-out of Winchester Hospital's Ambulatory Care Center.