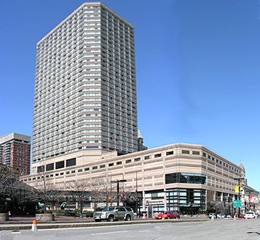 Size: 38-story high-rise
Owner: Copley Place Hotel Ventures
Electrical Crew: 20 at peak
Scope:  Three phase fire alarm retrofit inclusive of installation of all new fire alarm devices for 38-story hotel's common areas, 800 guest rooms, ballrooms, health club, The Palm and Turner's Fisheries restaurants. Updating fire alarm systems for 8 retail stores on mezzanine level. New fire command center connecting 10 remote node panels.
Highlights:
Simplex Grinnell addressable high-rise, voice evacuation system
Replaced entire fire alarm system in occupied hotel
Voice and manual fan controls installed throughout hotel
Sounder-based smoke detectors installed in all common areas and guest rooms
Two fully handicap-accessible floors equipped with visual devices strobe for hearing impaired
Timeline: 18-months in three phases
Unique Project Challenge:
Installation of technically advanced, comprehensive fire alarm system in occupied 38-story high-rise while maintaining operation of existing system at all times and without disruption to daily operations of the hotel.