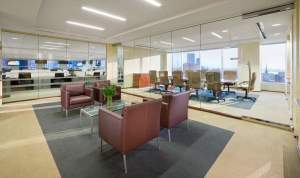 Size: 400,000 sq. ft.
GC: Lee Kennedy Co., Inc.
Electrical Enginner: RDK Engineers
Owner: Brown Brothers Harriman
Electrical Crew:  75 at peak
Scope: Comprehensive electrical construction and renovation of 12 floors (6 to 18) of headquarters offices of world-leading financial institution in historic 18-story 50 Post Office Square building located in the heart of Boston's Financial District.  Build-out of state-of-the-art, Class A headquarter offices included installation of power distribution and emergency power, all electrical systems, lighting and lighting control, and fire alarm system.
Highlights:
• Two weeks of pre-construction planning
• Airlift and Install 3 800kW generators to meet client's back-up power requirements
• State-of-the-art fire alarm system installed and tied-in to base building's fire alarm system, also renovated by J&M Brown
• Crew worked night and weekend shifts to meet aggressive schedule
• Project Timeline: 6 months
Unique Project Challenges:
Tight site in the heart of Boston's Financial District in an occupied building required careful planning and scheduling of 75-person electrical crew, and close coordination with key vendors for electrical equipment deliveries.  Aggressive schedule requirements and multiple trades on site made pre-construction planning and ongoing coordination with general contractor critical to success of project.  Concurrent lobby renovations at the historic building added to the logistical challenges.