50 Post Office Square (185 Franklin Street)
Size: 400,000 sq. ft.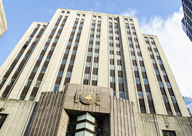 GC: Suffolk Construction
Electrical Crew: 40 at peak
Scope: Comprehensive electrical renovation of historic, 18-story high-rise.  This massive electrical separation project, included revising the building's power distribution system and paring it down to a base building system for tenant use.  Installation of new power distribution system, emergency power, lighting control system, upgrades to fire alarm system. 12 floor electrical fit-out for primary tenant, Brown Brothers Harriman.
Highlights
Installation of 4 electric vaults, working in tandem with NSTAR
All new power distribution to electrical motors, new life safety generator, and emergency distribution system
Demolition of 12 floors, plus lobby, followed by 400,000 sq. ft. build-out of state-of-the-art office space for primary tenant, Brown Brothers Harriman
Electrical installations in renovated lobby
Updating building's entire electrical and fire alarm systems, bringing them up to code
Upgrading fire alarm system to state-of-the-art
Installation of new lighting and lighting control system
Parking garage lighting installations
Timeline: 2 years, including 6 months electrical separation off peak of cooling season