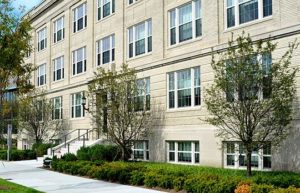 Size: 3-story, 30,130 sq. ft. building
CM: Walsh Brothers, Inc.
Electrical Crew: 20 at peak
Scope:
Complete renovation of MIT Sloan School of Management's historic Arthur D. Little administrative office building, constructed in 1916.  Installations included energy efficient lighting and Lutron lighting control system, tel/data, security, and fire alarm systems.
Highlights:
Historic building restoration received LEED Gold Certification
Low energy lighting, automated shade controls, motion sensors and photo cells
Simplex fire alarm system ties into three adjacent buildings, creating back-up system for sprinkler impairment panels
Historic building restoration received LEED Gold Certification
Low energy lighting, automated shade controls, motion sensors and photo cells
Simplex fire alarm system ties into three adjacent buildings, creating back-up system for sprinkler impairment panels