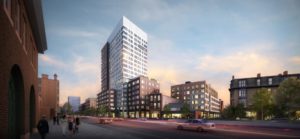 Cambridge, MA – J&M Brown Company, Inc. (JMB), headquartered in Jamaica Plain, MA, has completed the ground-up electrical construction of the first phase, six-story, wood-framed residential building of the Market Central project (formerly Mass + Main), in the heart of Central Square, Cambridge. Market Central is a transit-oriented development comprised of three new buildings on Mass Ave. near the intersection of Main Street.
The NECA Boston contractor's scope entails installation of primary and emergency power, electrical distribution, interior and exterior lighting and lighting control, and the fire alarm system for all three buildings.  
The first building includes 60 residential units with ground floor retail and residential entry on the first level. It connects to a rebuilt 4-story building (the Apollo Building), which also features ground floor retail and has residential units on the second and third floors.  Market Central's owner, Watermark Central / Twining Properties took occupancy of the building in August. 
JMB is also nearing completion of the comprehensive core and shell electrical construction of the project's second phase, a 19-story residential tower with two levels of below-grade parking, 18 residential levels with 225 residential units, and a mechanical penthouse. The first ten (10) floors of the tower will be completed in December with turnover at that time to the owner, Watermark Central/Twining Properties. The final phase of the Market Central residential tower is on schedule for completion in late January 2020 with opening anticipated in February.
JMB's low-voltage division, Spectrum Integrated Technologies is providing tel/data, security and AV system installations for both buildings. 
The Market Square complex amenities and features include a clubhouse, fitness center and green roof. It is being built to LEED Gold sustainability standards.
J&M Brown project manager (PM) Michael Booker and foreman Wayne Lucas are heading the contractor's electrical project team.  Spectrum IT's project is being supervised by PM Randy Silva (tel/data); PM Terry Kilduff (security); and PM Mike Anderson (AV).  At peak construction in the two-plus year project, J&M Brown has managed a crew ranging upwards of 45 IBEW Local 103 electricians and technicians.
###
See article in New England Real Estate Journal, December 20, 2019