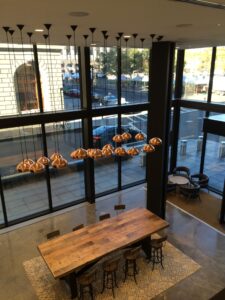 John Hancock Tower – 200 Clarendon St
Size: 19,000 sq/ft
GC: Shawmut Design & Construction
Electrical Crew: 5 at peak
Scope: Renovation of St. James St. lobby to include a new entrance and elevator lobby.  Upgraded lobby was constructed with decorative, energy-efficient lights, relocated security desk, private elevators, marketing suite and sitting area with floor poke-thrus.  During construction, J&M Brown carefully coordinated relocations of existing panels and installed new gear to keep building operations running without interruption.  Additional, J&M Brown design-assisted distribution to power new Air Handlers and Elevator Machine room.
Highlights
Navigated 1970s era distribution riser to reroute and add new panels
Fabricated custom exit signs to match existing
Installation of new lighting in Clipso ceiling
Retrofitted existing motor controls centers to handle new equipment loads
Timeline: 10 months