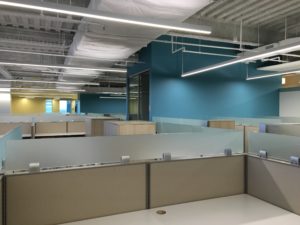 Owner: Harvard University; GC: Columbia Construction, North Reading, MA
Brighton, MA – March 28, 2016 – J. & M. Brown Company (JMB), based in Jamaica Plain, MA, has completed the electrical fit-out of Harvard Business Publishing's (HBP) new 125,000 square-foot headquarters' office space at Boston Landing, 20 Guest Street in Brighton, MA. The fast-track, 4-month electrical project entailed the demolition and customized fit-out of five floors for HBP.
BIM and CAD coordination were integral to the project, and key factors enabling the NECA Boston contractor to meet the aggressive schedule. The office space features an open ceiling design and JMB's field crew installed metal clad (MC) cable high and tight into ceiling areas, maneuvering around duct work and sprinklers to hang hundreds of LED pendant lighting fixtures. Digital lighting control is provided by a networked nLight® digital lighting control system, specified and installed for enhanced energy savings and user configurability.
The scope included J&M Brown's installation of over 1700 feet of cable tray to support wire and cable runs, as well as installation of the facility's vast Audio Visual infrastructure, which will accommodate state-of-the-art A/V installations for dozens of conference rooms, Huddle rooms, and a Video Studio room.
J&M Brown's Special Projects Group handled the project, managing a field crew of 26 IBEW electricians at peak construction.
Harvard Business Publishing, an affiliate of Harvard Business School and a wholly-owned subsidiary of Harvard University, moved into its new headquarter offices earlier in March. HBP also has offices in New York City, Singapore, India, Qatar, and the United Kingdom.
###
Link to New England Real Estate Journal article 4/15/16 NEREJCDEJMB04152016