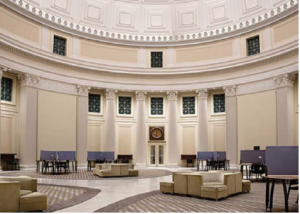 GC: Commodore Builders
Electrical Crew: specialized crew of Local 103 electricians
Scope: Lighting installations included wiring and installation of 32 LED downlights in clerestory/upper dome; 32 custom Lumenpulse LED uplights in acanthus detail of dome; 50 LED cove lights around lower level perimeter. Installed programmable lighting control system.  Upgraded emergency lighting system.  Project included wiring for desks on Dome floor in study room.
Highlights:
• Pre-planning of wiring layouts enabled all wiring to be concealed
• ENR 2013 Best Projects Merit Award in Renovation/Restoration category
• Project timeline: 4 months
Read the New England Real Estate Journal December 20, 2013 article.