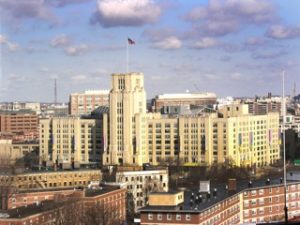 Size: 550,000 sq. ft.
GC: Payton Construction
Owner: Blue Cross/Blue Shield of MA
Electrical Crew: 110 at peak
Tel/Data Crew: 20 at peak
Scope: Comprehensive electrical installations for Blue-Cross/Blue Shield headquarters and data center at historic Sears Building, constructed in the 1920s.  Power requirements included a massive 4000A, 480/277V electrical substation, three 1500KW generators.  An N+1 back-up generator system included complete redundancy in all aspects of the critical power system.  Back-up generators were located on the roof at the center of the building so as to retain the architectural lines of the facility.  A state-of-the-art fire alarm system and advanced lighting and lighting systems were installed. Lighting installations included more than 6,000 light fixtures providing direct and indirect lighting for varied tasks in the expansive print and data center. Computer wiring was integral to the project.
J&M Brown's tel/data division, Spectrum Integrated Technologies, provided installation of cable trays and computer wiring at the BC/BS 70,000 sq. ft. data center.
Highlights:
Size of generators and location of electrical penthouse required first disassembling, then air-lifting components by helicopter air crane to rooftop
Installed over 20 miles of conduit and 150 miles of wire and cable
Handled 360 electrical engineering changes to accommodate specific BC/BS requirements
Complex, fast-track electrical project completed in 11 months
Crews worked 10 – 12 hour shifts in six and seven day work weeks to meet project schedule
Spectrum IT's tel/data installations included more than 500,000 feet of Giga-speed cable and 100,000 feet of fiber optic cable
Spectrum IT's telecommunication technicians achieved ithier scope in 4 months